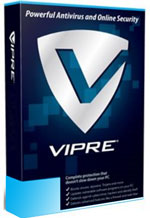 VIPRE Internet Security with AntiVirus, Anti-Spyware and Firewall
VIPRE Internet Security comes with the benefits of antivirus and anti-spyware software plus an integrated firewall. And it doesn't slow down your PC like other antivirus software. Using its next-generation technology, it protects your computer from all malware threats including viruses, adware, spyware, worms, rootkits, phishing attacks and much more.
VIPRE Internet Security provides spam and web filtering for safe internet and email at home or on the go. You deserve peace of mind – order VIPRE Internet Security with integrated firewall today!
System Integrity – VIPRE WONT SLOW YOUR PC DOWN!
Optimized Performance – with VIPRE Internet Security, you will not say: My computer is slow!
VIPRE Internet Security efficiently combines antivirus, antispyware, firewall and malicious website filtering for powerful computer security, built completely from scratch with the latest technologies.
Simple User Interface: Developed with the least experienced user in mind VIPRE AntiVirus is easy to understand and use, yet runs robustly in the background providing the very best threat protection.
100% Money Back Guarantee: If you are not satisfied, we won't make you jump through hoops to get all your money back. VIPRE AntiVirus comes with a 30-day money back guarantee.
Best Malware Detections: Ranked one of the top performing antivirus products in the world for malware detection, VIPRE AntiVirus detects, removes and blocks all types of PC threats.
Free Tech Support: Since we believe VIPRE is the best antivirus and antispyware solution in the world, it's easy for us to provide you with free technical support from some of the best support technicians in the industry. Any calls for help with VIPRE AntiVirus 2014 are answered at Threat Track Security offices, as opposed to sending your request for help to a call center in another part of the world.
Free Malware Removal Assistance: Your purchase of VIPRE comes with free malware removal assistance, should you ever need it. Satisfaction guaranteed or your money back with no questions asked, which is why our 30-day Money Back Guarantee reassures our clients of our sincerity.
Highly recommended by Expert Professionals and Users.
VIPRE Internet Security consists of VIPRE Antivirus + AntiSpyware + Firewall Technologies
VIPRE Internet Security Pricing for 1 PC
VIPRE Internet Security Pricing for 2 to 10 PCs

PC Lifetime protects you for the life of your PC. It is not transferable to a new PC. If your PC dies, you will need a new VIPRE License.
Which Antivirus application is right for you?
Which Antivirus application is right for you?
| Features | VIPRE Antivirus | VIPRE Internet Security | VIPRE Internet Security Pro |
| --- | --- | --- | --- |
| AntiVirus + Anti‐Spyware | | | |
| Light AV Engine on PC Resources = Fast Computing | | | |
| Email + Instant Message Security | | | |
| USB Flashdrive Scanner | | | |
| Windows 10® Compatible | | | |
| Edge Protection™ | | | |
| Social Watch™ (Facebook link protection) | | | |
| Search Guard™ | | | |
| Easy Install™ | | | |
| Advanced Protection | | | |
| Patch Management | | | |
| 2 Way Firewall | | | |
| Intrusion Protecon | | | |
| Spam Protection | | | |
| Bad Website Blocker | | | |
| Cloud URL Lookup | | | |
| Advanced Active Protection | | | |
| Ransomware Defense + Threat Behavior Analyzer | | | |
| Cloud Driven Threat Detector | | | |
"I truly have appreciated the speed that Vipre has given back to my computer, and the ease and efficiency with which it operates. And, then to add great technical support onto that——-well, it's awesome!! thanks again. I have never received such tech support with any product concerning computers, and most certainly never from Norton!!"
"Who ever made the decision to offer a group license on Viper did a really smart thing. We have a lot of machines, but we're basically a 2 person operation, and your software is some of the best I've seen (and I used to work on hardware firewalls in documentation). Viper is excellent too. Anyway, thank you."
"I started to use Vipre a couple of months ago and I love it. I was able to get rid of all my Norton products, Spybot, Windows Defender, Ad-Aware and only use Vipre. I could never understand why some of these programs would find lots of spyware and others none. Now Vipre usually only finds a few cookies that need to be removed and it runs very quietly in the background and doesn't chew up a lot of resources — or my time. I also love that it doesn't destroy the cookies for web sites that I want to recognize me, like Amazon. Thank you for creating Vipre. I now recommend it to my computing friends."