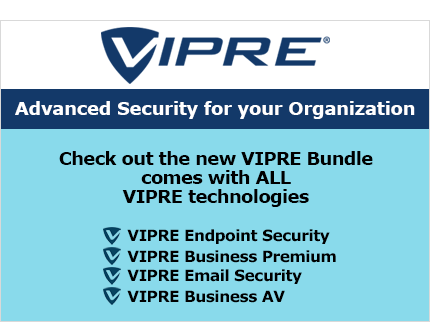 VIPRE Advanced Security is the answer to protecting computers on and off your network.
Protecting means detecting and managing and stopping threats.
Everyday, malware and ransomware attacks are happening. VIPRE Advanced Security now includes the right tools to fight for computer security where conventional antivirus software is no longer enough to stop threats.
VIPRE technology is now fortified with Advanced Active Protection, working to protect your Endpoints without slowing down your computers. With its low footprint on system resources, you can manage your network security from a central console and maintain order.
Backed by US based Tech Support, VIPRE answers the call to dealing with and mitigating threats.
VIPRE Advanced Security is a bundle of cyber defense technologies for organizations and businesses, starting at $12 per seat per year*.
Features
VIPRE Business Standard
VIPRE Business Premium
VIPRE Endpoint Security
VIPRE Email Security for Exchange
VIPRE Advanced Security Bundle
Antivirus & anti-spyware

Light on PC Resources for Fast Computing

Best Centralized Console for Agent Management

On‐Demand File Scanner

In‐Browser Scanner

Flash Drive & Media Scanning

Mobile Device Management

Mac security

Patch Management ‐ Update Patches

Firewall ‐ Manage incoming and outgoing online traffic

Malicious Website Blocking

Device Control and Encryption: Permissions & Denial

Advanced Active Protection

Cloud Update Alerting*

Future Threat Detection*

Email Security + Anti ‐ Phishing

Anti‐Spam

File Attachment Inspection & Filtering

Global and Policy‐Based Email Disclaimers

Configurable Mailbox Reporting

*Technologies included with Advanced Active Protection.